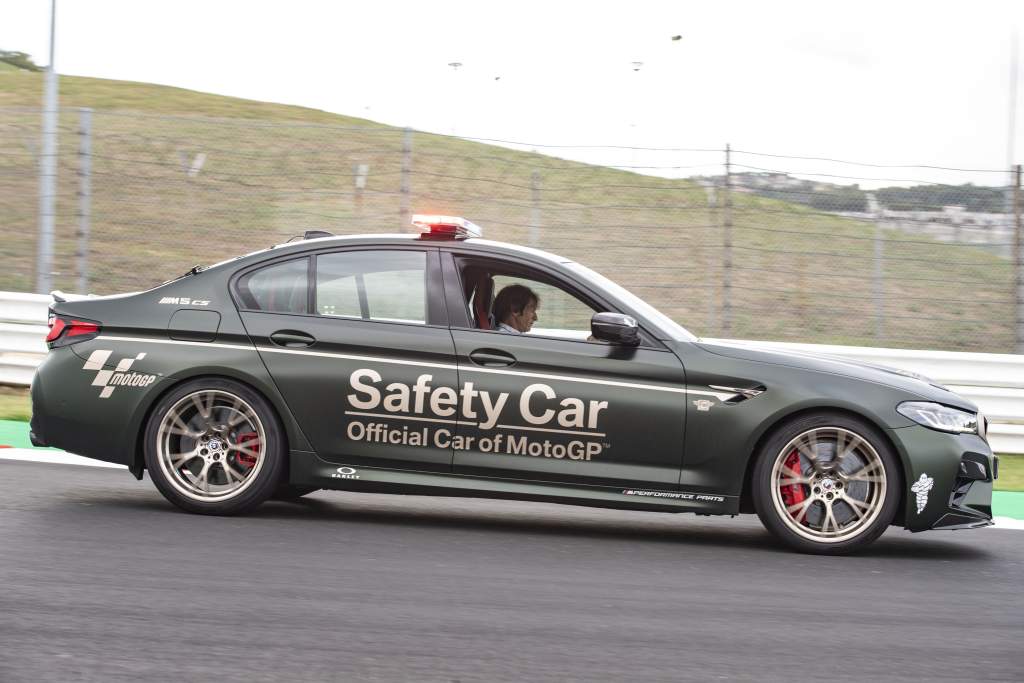 What MotoGP would need for race safety cars
With MotoGP bosses coming under increasing criticism of late for their apparent reluctance to red flag racing, one potential solution that has been mooted is the introduction of an F1-style safety car.
This would allow races to be briefly suspended without a full stop, in order to deal with incidents such as injured riders near other competitors or marshals requiring a clear track to remove damaged machinery.
And, while it's something that has traditionally been deemed impossible thanks to Michelin's control tire characteristics in the premier class, the head of the French firm's motorcycle racing division Piero Taramasso has exclusively revealed to The Race he thinks could be in a position to support such a move in as little as a season – with no drop in performance.
The issue of race stops has come to the fore in recent weeks thanks in large part to a high-profile incident during the Australian Grand Prix Moto2 race which saw Pons Racing rider Jorge Navarro stranded just a meter away. of a live track with a broken femur and severed femoral artery.
It's a problem compounded by the series' somewhat loose yellow flag rules, under which only crashing under yellow flags deserves heavy punishment. Ignoring a waved yellow danger signal in practice or qualifying simply ties up your lap time, while overtaking under yellow in a race just forces you to give way.
And while a safety car is unlikely to be an adequate solution for practice or qualifying incidents (which was also a problem at Phillip Island thanks to repeated track invasions of local wallaby and geese), switching to this model is something that would produce a significant advantage in racing while both protecting the all-important television program and providing closer racing by grouping spread fields.
It would also require no additional equipment and provide an additional business opportunity for long-time MotoGP partner BMW, which already supplies a wide range of M Sport performance vehicles for every round of MotoGP – with the cars currently only being used for track observation and warm-up laps, to assess track conditions and as emergency response medical vehicles.
The safety car format is also used elsewhere in cycle racing with great success, with an existing model already in place in the World Endurance Championship and the British Superbike Championship.
"BSB has successfully used a safety car for live action since 1999," series director Stuart Higgs told The Race. "Since then it has been used countless times and it is an invaluable tool.
"It provides neutralized control for marshals to respond to incidents, react to potential contamination and even allow medical evacuations of a non-serious nature to take place without the need for a red flag, which in turn denies having the most dangerous part of the race [again] which is the beginning and opens up a few turns.
However, with superbike series running on very different production-derived slick tires (something Michelin have experience with from their long history in endurance racing) compared to MotoGP, rubber performance has always considered to be the biggest obstacle to the introduction of a safety car. in prototype racing.
"This tire model is not designed for when you have a safety car," Michelin boss Taramasso admitted at the Malaysian Grand Prix earlier this month, "and the temperature and pressure would drop and you could never bring her back again.
"We see it regularly when some riders go off the track and then when they come back the tire has failed and they are struggling. We would need to redesign the tyres, and at the moment that wouldn't be possible.
But, it's also something that could very easily be reversed, according to the veteran engineer – and, in even better news, he thinks it would happen without even a drop in performance or lap times given the Michelin experience.
"It's something we do for endurance tyres, for 24-hour races," he explains. "Sometimes they have safety cars and this type of tire is designed for that, is able to do that – but not the MotoGP tyre.
"I think it would take a season. Time to design, build and test; we would be able to react in a year.
"That wouldn't necessarily mean a drop in performance: we could probably keep it the same, but we would have to do some testing. But in theory, it is possible.