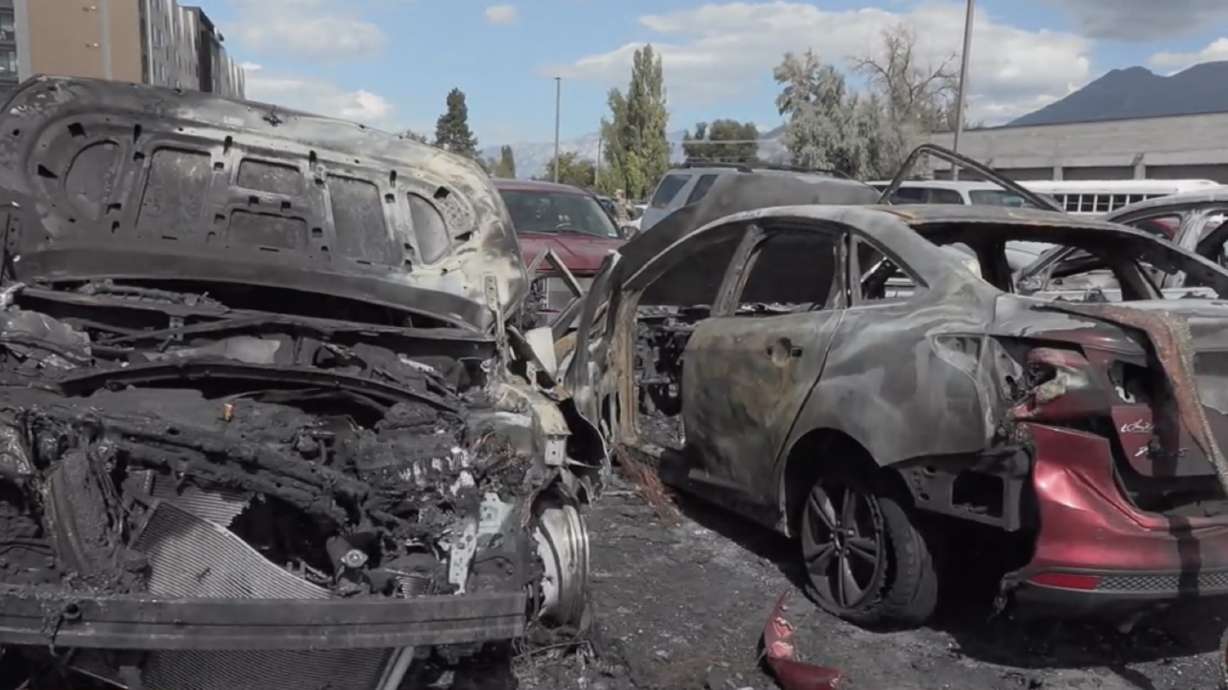 What caused the weekend fire that damaged 10 cars in the UVU parking lot?
Estimated reading time: 2-3 minutes
OREM – Fire investigators have determined that an engine malfunction was the cause of a fire that destroyed three cars and damaged several others in a parking lot on the Utah Valley University campus over the weekend. end.
"When you're dispatched to a car fire, you expect one unit to be involved and then you quickly find out it's multiple cars," said fire department deputy chief Shaun Hirst. of Orem.
UVU Police notified firefighters of the blaze around 5 a.m. Saturday. It happened just outside the National Guard building on the west side of the UVU campus.
When firefighters arrived, they found three cars engulfed in flames, including one with a US government license plate and another with propane tanks inside.
Firefighters brought the flames under control, which destroyed three cars and damaged seven other vehicles. All have been cut and parked.
Hirst described the scene as unusual – but not suspicious. "Not common. It's not common to see a car that's been standing all night catch fire."
"I think the most important thing is that we just want to know what happened," Todd Roberts said.
Roberts' brother had just found his motorbike vandalized outside his apartment that morning. When he called him to the police, he learned of the fire in the parking lot next to the complex.
Roberts said it was later that day that he realized, "Oh, shit. My car got burned."
Investigators point to a Ford recall in 2017 that involved some models having issues with their engines catching fire due to a lack of coolant circulation.
Investigators believe the fire started under the hood of a 2014 Ford Focus. They said the driver drove some distance out of the county the night before it caught fire.
"If there are any recalls, get help, get them taken care of. I think that probably could have helped in this event," Hirst said.
Hirst said no one was injured in the fire.
×
Pictures
Most Recent Utah County Articles
More stories that might interest you