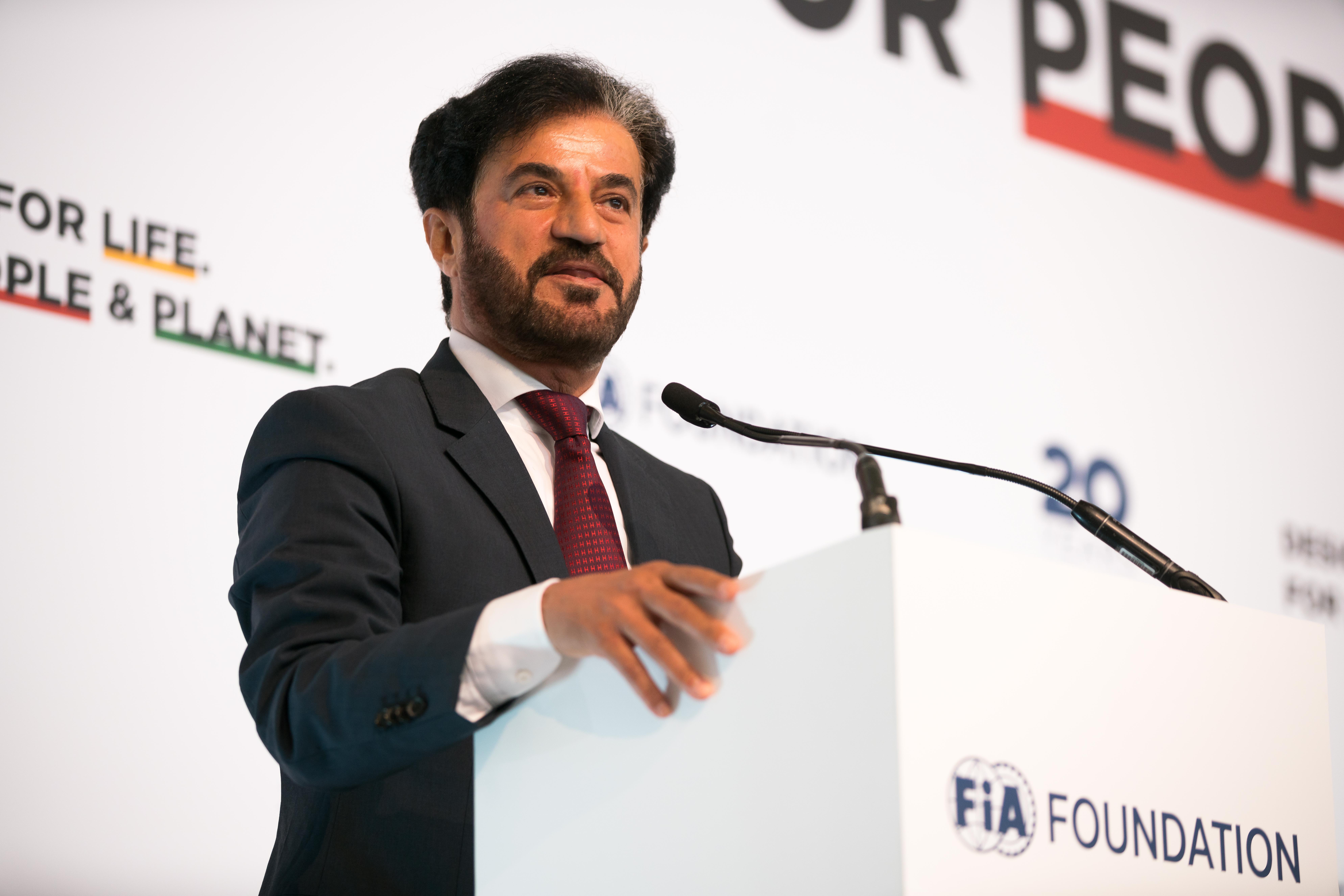 THE FIA FOUNDATION CELEBRATES ITS 20TH ANNIVERSARY
On June 21, on the occasion of his 20e anniversary, the FIA ​​Foundation organized a Forum on safe and healthy mobility in London entitled "Design for Life. For people and the planet.'. Forum brought together international policy makers to review progress towards UN global targets to reduce road deaths and serious injuries ahead of the first-ever UN High-Level Meeting on Safety (to be held on June 30) and to discuss air quality improvement and decarbonization of road transport.
Composed of three panels: Streets for Life; streets for people; and Streets for Climate, the Forum was opened by FIA Foundation President Rt. Hon. Lord Robertson of Port Ellen.
FIA President Mohammed Ben Sulayem took part in the 'Streets for Life' panel alongside director of NGO Ukraine Impact Oksana Romanukha, London City Hall's Walking and Cycling Commissioner, Will Norman, Hon. Floyd Green, MP in the Prime Minister's Office of Jamaica, African Union Commissioner for Infrastructure and Energy HE Dr Amani Abou-Zeid, as well as Hon. Helen Clark and Zoleka Mandela, Child Health Initiative Global Ambassador (via video messages).
The FIA ​​President recalled the creation of the FIA ​​Foundation twenty years ago as an independent charity to promote safety and health for the public good and underlined the close link between the Foundation and the FIA ​​in the field of public defence. He mentioned the importance of programs such as the Global and Regional New Car Assessment Programs (NCAP) and the iRAP International Road Assessment Program. President Ben Sulayem also highlighted the FIA ​​Road Safety Strategy which aims to achieve Vision Zero with FIA Member Organizations. Finally, he insisted on the need to fight against climate change, both in sport and mobility, and to offer safe, clean and affordable mobility for all.
The second panel, titled "Streets for People", shed light on how streets, vehicles and policies are designed to achieve the United Nations Sustainable Development Goal of halving deaths and deaths. serious injuries by 2030 and to ensure that the most vulnerable are prioritized. .
The 'Streets for Climate' panel addressed the challenge of harnessing calls for climate justice and clean air to rethink urban mobility so that it is clean, safe and low-carbon. Forum attendees heard about the unprecedented attention and support for fleet electrification at COP26 and the need to ensure safe walking and cycling. The difficult recovery of public transport after COVID-19 and the growing demand for clean air were also discussed.
On the occasion of the Forum, the FIA ​​Foundation published a new study entitled "Development of the investment case to reduce road accidents teenagers' which shows that nearly 12 million serious injuries among young people aged 10 to 24 could be prevented by 2050 if proven road safety interventions were implemented in 77 low- and middle-income countries. The study also points out that the economic returns from investments in security would be at least tripled and, in some countries, the returns could be multiplied by fifty. The research model, developed by the Murdoch Children's Research Institute at the University of Victoria in Melbourne, examined how proven interventions including traffic speed reduction, safe road infrastructure design, motorcycle helmets, drink-driving and vehicle safety measures would save lives and generate economic returns on investment. The study focuses in detail on three case studies with projections to 2030: Tanzania, Vietnam and Colombia. President of the FIA ​​Foundation Rt. Hon. Lord Robertson of Port Ellen commented:This report shows the huge potential of investments in road safety to prevent road accidents from destroying the lives of young people. A thousand young people in this age group die on the world's roads every day, a carnage on the scale of a conflict, and thousands more are injured. We know how to prevent this, we have the tools, we have a UN Development Goal that every country has endorsed, and we have a UN Road Safety Fund ready to act. Donors, national governments and city authorities must now provide the funds and political commitment to save young lives."
The Forum was also an opportunity for the FIA ​​Foundation to announce new funding commitments to help achieve the UN global targets for reducing road fatalities and serious injuries and decarbonising transport. road.
The day before the Forum, a meeting of partners was organized on the Child Health Initiative which operates as a collaborative partnership, with a focus on global and national advocacy, research and program implementation. . Hosted and coordinated by the FIA ​​Foundation, the Child Health Initiative aims to give voice to the particular needs and rights of children in the development of transport and urban mobility policies; highlight the serious and costly health effects of dangerous roads and air pollution on young people; and to demonstrate, through applied research, programmatic support and technical assistance, the many effective solutions that are available. FIA member organizations from Moldova, Azerbaijan, Latvia and Armenia participated in the meeting to share their experience in designing and implementing effective and collaborative projects.