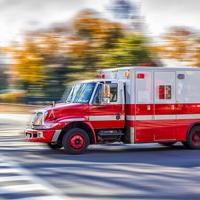 Rockwood man dies in motorcycle accident | Local News
A Rockwood man died on a single-vehicle motorcycle — allegedly fleeing a police stop — shortly before 3 p.m. Monday, according to reports from the Tennessee Highway Patrol and the Cumberland County Sheriff's Office.
THP Trooper Bobby Barker's report identifies the victim as 30-year-old James Morris. No other vehicles were involved in the accident.
Cumberland County Sheriff Casey Cox confirmed Cpl. Lucas Turner was on routine patrol approaching Rowell's Apple business when a motorbike heading for Crab Orchard passed him.
Turner observed that the motorcycle had no visible license plate and he turned to observe the driver. As the motorcycle passed the entrance to Crab Orchard Elementary School, it suddenly passed vehicles and appeared to be trying to evade the deputy.
Blue lights and sirens were activated and the fleeing motorcyclist reached speeds of 70 to 80 mph, Cox continued. "It was not a high speed chase and as the bike approached the bends near the Renegade Mountain entrance it slowed down and then went off road.
Barker's report states that Morris, driving a Suzuki FLH motorcycle, "failed to negotiate the curve and ran onto the left shoulder of the road and hit a rocky embankment…"
The report says Morris' driver's license has been suspended. It is unknown why the motorcycle did not have a visible license plate displayed.
The victim was rushed to Crab Orchard City Hall where a helicopter landed to transport Morris to a regional trauma center. Despite these efforts, Morris succumbed to his injuries.
THP said the report is preliminary and the final report may contain updated information.