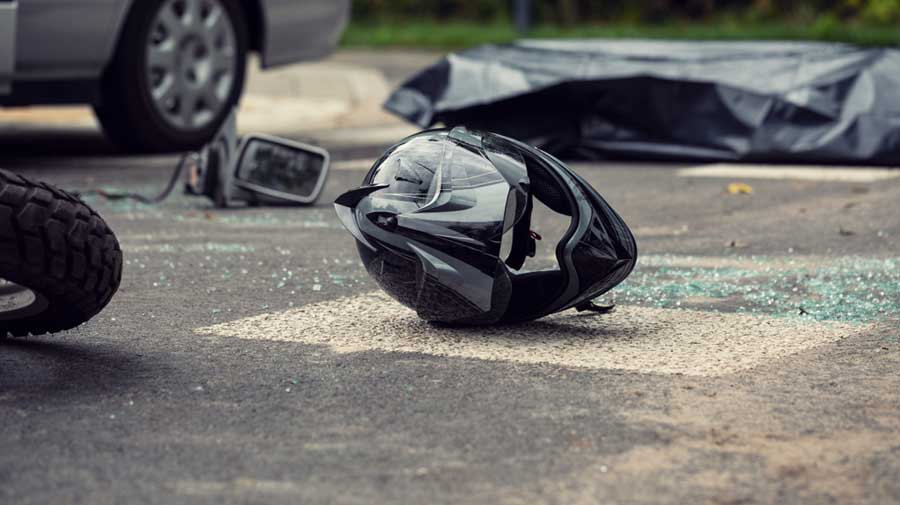 Road accidents Truck hits motorcycle, passenger died
A 26-year-old man who was driving a passenger on a motorcycle died Tuesday morning after a truck allegedly struck the two-wheeler near the Chingrighata crossing, on the eastern outskirts of Calcutta.
Police say Sagar Pal, who was wearing a helmet, was thrown from the bike when the two-wheeler lost balance and crashed.
Pal's helmet came off due to the impact of the collision. His head hit the curb directly causing serious injuries, police said. He was pronounced dead at the Bidhannagar Subdivision Hospital.
Locals said cops took Pal to hospital in an autorickshaw after an alleged delay.
The accident happened around 6 a.m. near the metro site under construction off Chingrighata.
Police said the accident happened on the road to Salt Lake, at a bend where the road is slightly narrow due to subway construction.
Pal's friend Soham Konar, a resident of Anandapur, was riding a bicycle. The deceased resided in Kasba.
Konar was admitted to hospital with injuries, a Bidhannagar police officer said.
The two were on their way to their workplace at Infinity Hub in Srijan Park, Salt Lake, when the accident occurred.
Officers from the Bidhannagar Sud police station seized the two-wheeler.
Police said they were analyzing CCTV footage from the camera closest to the location to identify the vehicle that struck the motorcycle.
An officer said a number of freight vehicles had passed through the section at the time of the crash.
"We are trying to find the offending vehicle," the officer said.
The truck had not yet been identified until Tuesday evening.
Octogenarian hit on bike near Narkeldanga, killed
An 83-year-old pedestrian died Tuesday morning after being hit by a motorcycle on APC Road in northern Calcutta.
Police said Kishanlal Gupta was crossing the road when the motorcycle hit him around 10 a.m. Gupta, a resident of Pitambar Bhattacharya Lane in Narkeldanga, not far from the scene of the accident, was pronounced dead in the NRS hospital.
Officers from the Amherst Street Police Station, under whose jurisdiction the accident occurred, seized the motorcycle and arrested the rider. The accused was charged with causing death by negligence, recklessness and careless driving.
According to police records, more than 50 percent of those who have died in traffic accidents in the city are pedestrians. "Pedestrians are the most vulnerable to accidents, either because of the carelessness of motorists or because of their own fault for breaking traffic rules," said an officer.