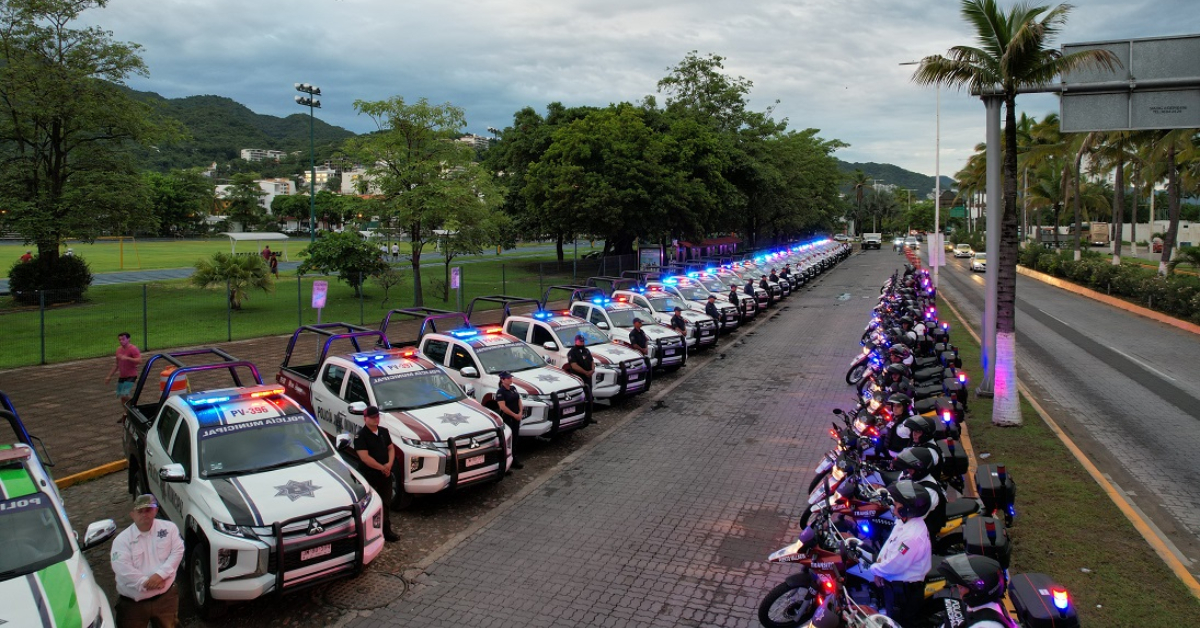 Puerto Vallarta receives 30 new patrol vehicles and 30 motorcycle patrols
Security in Puerto Vallarta is reinforced with the commissioning of 30 new patrol vehicles and 30 motorcycle patrols, delivered this Monday to the Citizen Security Directorate, which will soon have a new vehicle fleet of 100 modern units, because, in the coming weeks, more patrols will continue to arrive in this city, including 9 more vans which will enter service this week.
Mayor Michel indicated that as part of the transparency and good accountability of his government, today the patrols were purchased at a lower cost than those that were rented in the 2012-2015 triennium, which had a premium, they were not from the municipality. They also lacked the quality required by Puerto Vallarta, as each new unit cost 445,250 pesos (US$22,000), while a rented patrol car nearly a decade ago cost Vallarta residents 760,272 pesos (37,000 USD), which speaks volumes about a big difference and inadequate management of resources by previous authorities.
"Today we are here to deliver 30 patrol cars to this great company and 30 new motorcycles. They cost 315,000 pesos cheaper than 9 years ago, almost with one they bought two with the old price , it's amazing," said the mayor.
The mayor called on the police elements to continue to act with professionalism and commitment, and to consider these patrols as something of themselves, "because it is their tool the longer they last us the better the service will be you will all give back for the good of the community".
The Director of Citizen Security, Eloy Girón Alcuria, highlighted the discipline and loyalty of the security forces, as well as their dedication to serving citizens, thanking the mayor for his management and his unconditional support for this agency, "I guarantee to the society that we will redouble our efforts to achieve the Puerto Vallarta that we all deserve.
He specified that with the commissioning of the new units, the Green Patrol program will be reinforced with one of them, to deal with incidents related to endemic flora and fauna; another will be integrated into the area of ​​crime prevention acting under the Pink Patrol program, while another patrol will be integrated into the functions that the Sexual Diversity Incident Attention Unit will perform.
"These mobile units, radio patrols and motorcycle patrols put into circulation today, will be used in accordance with the corresponding security plan and are part of a fleet of modern and functional vehicles that will increase security and its social perception. We are committed to crime prevention, social closeness and civic justice to inhibit criminal activity and coexist in society."
Representing the elements of the Directorate of Citizen Security, the line police of the Tactical Group, Adriana Isabel Arias Carrian, stressed that this delivery will undoubtedly make a difference and the company strongly supports its commitment to redouble its efforts in the field. of security.
"To guarantee social security, human resources are undoubtedly the most important resource, it is for any company, however, if we do not have the tools necessary to carry out the work, we are limited to being able to give results in favor of society, which is why the mayor, Luis Alberto Michel Rodríguez, that on behalf of my colleagues we want to thank you for your concern to give us the necessary tools to be able to circulate and walk each of the streets of our beautiful port, paying attention to the needs of all citizens".
Trending stories right now on PVDN
Another stormy weekend in Puerto Vallarta leaves flooding, downed trees and mudslides

Authorities in Puerto Vallarta were activated during the heavy rains recorded Saturday night, making preemptive visits to various areas, responding to 911 calls and activating machinery and work crews to deal with flooding and landslides. It was around 10 p.m. when the first monitoring actions were undertaken in vulnerable areas, rivers and streams, by the…

Tourism in Puerto Vallarta remains stable throughout the year; most visitors from the United States and Canada

Puerto Vallarta in 2022 has already surpassed 2019 figures in tourism, the year preceding the atypical influx due to the health contingency of 2020 and 2021 and one of the records where a significant number of visitors had appeared. According to the head of the municipal directorate of Tourism, Ludwig Estrada Virgen, for…

Puerto Vallarta receives 30 new patrol vehicles and 30 motorcycle patrols

Security in Puerto Vallarta is reinforced with the commissioning of 30 new patrol vehicles and 30 motorcycle patrols, delivered this Monday to the Citizen Security Directorate, which will soon have a new vehicle fleet of 100 modern units, because, in the coming weeks, more patrols will continue to arrive in this city, including 9…

Miracle at the mass of Jalisco? The Blessed Sacrament seems to have a heartbeat

A mass in Jalisco received a lot of attention for what some call a miracle when, on the main altar, the Blessed Sacrament appeared to mimic a heartbeat. According to parish priest Carlos Spahn, the sacrament began to exhibit movements that resembled the beating of a heart, a fact that surprised the…

Construction of the new pier in Boca de Tomatlán will begin in September

With an investment of 180 million pesos, the government of Jalisco intends to promote the sustainable tourist development of the coast through the maritime connectivity model. This model aims to promote connectivity and maritime accessibility of the coast of Jalisco, consolidating habitable and visitable tourist destinations. According to the diagnosis established by the government of Jalisco,…