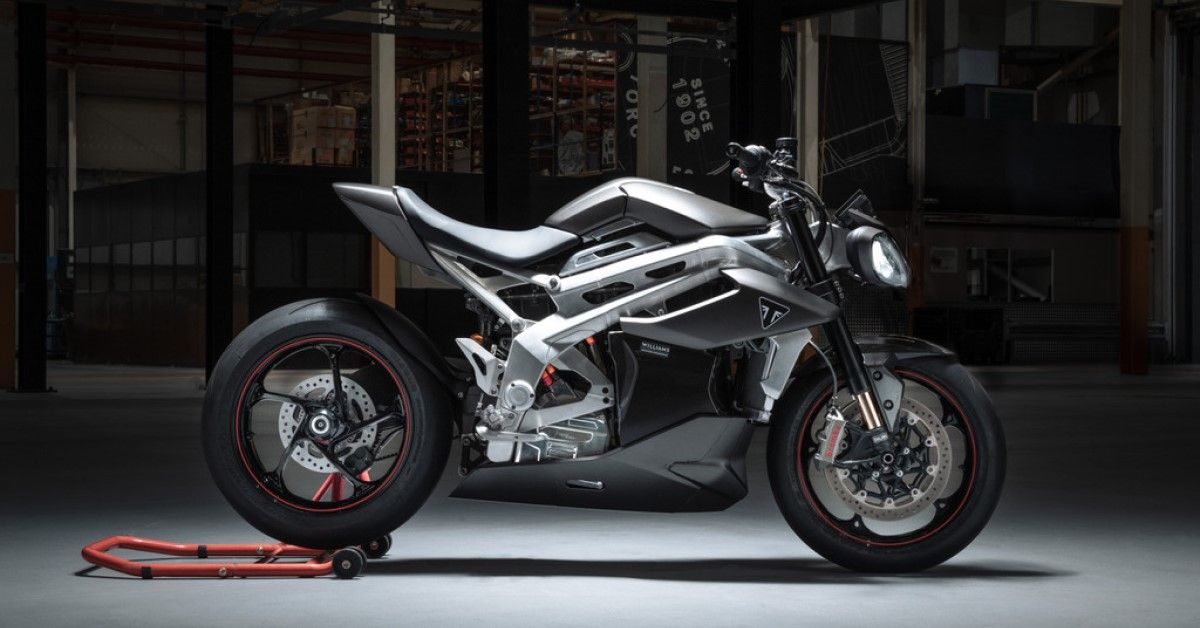 Here's what we now know about the Triumph TE-1 electric motorcycle
After more than two years of development Triumph finally unveiled the TE-1 prototype last year, after further testing and development this prototype is now close to being production ready.
The pandemic has certainly played a part in the constant delay of this highly collaborative project, which includes several stakeholders, not just Triumph. We'd be remiss to make excuses for them, as we now know more details about the project which is now in its 4th year, a development cycle that suggests there might be too many cooks in the kitchen, especially if the consider how quickly they were able to deploy other conventional ICE motorcycles during the pandemic.
Related: Formula 1 2022: Williams Racing presents the FW44 and its new partner, Duracell
8

Highly collaborative project
The project involves no less than five stakeholders, with Triumph handling the chassis development, another company supplying the lightweight electric motor and a university doing the computer modeling for them.
The two most interesting stakeholders in the project have to be the UK government, which funds the promotion of zero-emission vehicles, and Williams Advanced Engineering. Yes, this Williams.
7

Entrance Williams
Although over the years F1 development has focused on more efficient aerodynamics, the most recent development has effectively incorporated an electric powertrain and developed a way to efficiently capture energy.
It was this research that helped them branch out into Formula E, now supplying most of the network with their battery technology. This technology has now made its way into the motorcycle world.
Related: Why Maserati is the first Italian brand to enter Formula E in 2023
6

Ready for production
As it stands, the bike seems like the finished article, but they have already stated that they will need another 6 months to fine-tune the power, suspension and battery usage.
It's this battery usage that promises to be their biggest party trick, not in terms of range, but a promised fast charge that will get the bike to an 80 per cent charge in around 20 minutes.
5

Performance
At this stage of development the specs can be deceiving, one thing to expect is that they are going to be very close to the Energica Eva Ribelle (above) which appears to be the bike they are on have set their sights as a rival.
With a respectable theoretical range of 120 miles and around 180 horsepower, that would put the bike on par with the Ego. So as long as they are able to bring the promised fast charge to the table and get the price right, it will be a contender.
Related: Here's Everything We Know About Energica's Electric Motorcycle Lineup
4

Compact design
The bike is a bit of a statement, it's bold, but if you look at it alongside the Energica, you can't help but see some similarities. This approach makes a lot of sense at the moment.
It's a conservative approach, they already know there's a niche market for a bike like this, and it also allows them to try to generate interest in the whole concept. To be fair, an electric maxi-scooter is what the market needs, but unfortunately it's not as marketable at this point.
This sleek and sporty design will serve them well as a promotional tool in a market segment that is still very young and does not attract as much attention as their four-wheeled counterparts.
There is currently no direct government mandate for motorcycles, while there are already clear policies requiring automakers to go electric by around 2030.
Related: Check out the new Nerva Exe electric scooter
2

Electric future
To be clear, the future of electric sport bikes or naked sport bikes like this is seriously limited and will likely remain so for many years to come.
It's a market that won't necessarily drive people away from ICE motorcycles, but rather develop a whole new segment with its own set of customers. Sports bikes aren't ideal candidates for e-mobility either, but it's a starting point for the industry that needs a boost.
1

More soon
With the amount of investment in this particular project, this is clearly just the starting point. Marketing is always an important part of any EV development, so releasing a marketable bike is completely understandable.
Hopefully we'll see this electric maxi scooter soon after, it may not be the most marketable platform but if it can hold twice the battery, maybe it can recharge you at 50% in about 30 minutes, we'll have a serious electric mobility option in our hands. At the moment we have a bunch of mopeds that nobody really wants and a lot of Chinese-made bric-a-brac that might actually not be entirely durable, to begin with. Oh, and of course the overpriced sports bikes…
Triumph continues development of the TE-1 e-bike
Motorcycle development has reached the point where Triumph is ready to show the battery and electric motor mounted on a chassis.
Read more
About the Author