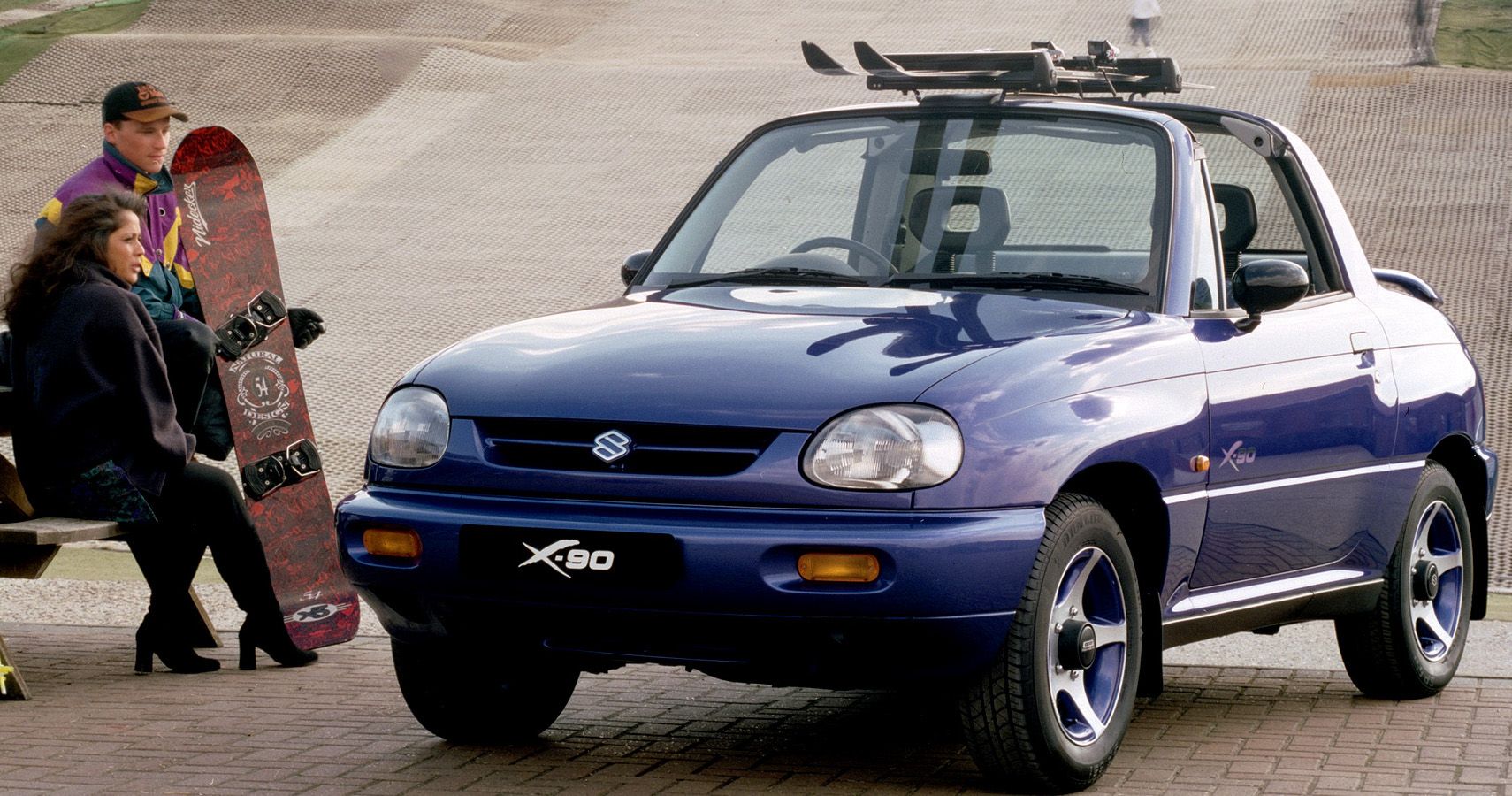 Here are the weirdest Japanese production cars from each decade
Japanese automakers are known for thinking outside the box when it comes to production cars. The post-war era in Japan welcomed technology with open arms and often embraced a desire for eccentric creations in various industries…and the automotive industry was no exception to this particular trend. Automakers began to develop unique car designs that for the most part had forged strong design identities in the 1990s. This led to great cars over the decades, true icons and icons. others to an absolute strangeness.
Of course, Japan is not the only country that has produced unusual cars. There's a strong argument that America still holds the trophy for the ugliest cars. But enough with the comparison, let's take a look at some of the most unusual and weird JDM cars from each decade.
8
1950s Daihatsu Bee
Daihatsu introduced the Daihatsu Bee in 1951 as its first consumer car. At first glance, it stands out from other vehicles by being the first brand of tripod entirely composed of three wheels; one in front and two in back.
The Bee was powered by a 0.5-litre OHV 2-cylinder engine developing 18 bhp and mounted at the rear behind the cabin. Although it was the first Japanese car with a horizontally opposed engine, it sold poorly and production ceased after only 300 cars were made.
Related: 10 Weirdest And Most Outrageous Three-Wheeled Cars Ever Made
seven
1960s Honda S500
The S500 was Honda's second production car launched in 1963. It was a displacement version of the S360, which was made for sale but never produced. Analogous to the S360, the S500 featured an advanced engine derived from the automaker's motorcycle experience.
The small engine was mated to a 4-speed manual transmission and the vehicle contained an innovative 4-wheel suspension system with Coilover shock absorbers at the rear and torsion bars at the front. In September 1964, the S500 was replaced by the S600 due to alleged lower power due to its small displacement.
6
1970s Honda Vamos
The Vamos was an open-top leisure model that was Japan's answer to Volkswagen and the Citroën Mehari. However, he has a slow car powered by a mid-centered 360cc 2-stroke air-cooled engine.
While it looked like an ideal fit for off-roading, that was nearly impossible as it featured rear-wheel drive. Still, it was supposed to look like a simple beach buggy with dust and water proof switches.
For a fun vehicle, it had the same hippy vibe as the Volkswagen Kombi although it sold poorly between 1970 and 1973, ceasing production after just 2,500 units.
Related: Modern Prelude Proves Today's Honda Models Could Be Sexier
5
1980s Nissan S-Cargo
The Nissan S-Cargo looked unabashedly like the Citroën 2CV delivery van with styling cues like split windows and pronounced front wheel arches. It also comes with a 1.5-liter 4-cylinder engine mated to a three-speed automatic transmission. Although he doesn't like a highway warrior, he is faster than many cars on the list.
About 8,000 units of the S-Cargo were made in two years of production. The S-Cargo comes from the Pike factory, famous for producing the equally stunning Pao and Figaro.
4
1990s Suzuki X-90
At the start of the SUV boom, automakers conducted trials with different car models. While some experiments worked, others spawned bizarre creatures like the 1996 Suzuki X-90. The subcompact car was part SUV, part two-door, and somewhat convertible, with a roof superior.
The X-90 featured a car-like trunk that was small to be useful. Still, it was built on a truck chassis, so it hardly performed well. Its 95hp engine didn't offer much thrust either. The X-90 was only sold between 1996 and 1998.
Related: The Suzuki X-90 Is As Weird Today As It Was In The 90s
3
2000s Toyota Vi
After years of manufacturing Dull cars such as Corolla and Camry, Toyota surprised the press and public with a design-oriented sub-brand called Will in 1999. It released three vehicles, namely Cypha, VS and Vi. Each stood out with unique styling, but the 2000-built Vi stepped up the game with an angular design highlighted by an inverted rear window.
Although the Will Vi's flexagon-shaped sheetmetal makes it worth examining, production ceased sooner than expected.
2
2000s Suzuki Twin
Even by Kei car standards, the Suzuki Twin was a stretched little coupe a bit longer than a Smart For Two. Its circinated design blurred the line between a plastic model you'd find in children's toy stores and a real vehicle that motorists could commute in.
The Suzuki Twin was sold entirely in Japan, where it was produced with a hybrid drivetrain. The Twin Hybrid contained a single electrically operated window to reduce power consumption and improve efficiency.
Related: 9 awesome Kei cars we'd really like to win
1
2010s Nissan Cube
The Nissan Cube is considered one of the weirdest (and weirdest) cars you'll find on the streets. The main reason for its hate-or-love look is its curved box shape, asymmetrical rear window and, in other cases, a CVT gearbox.RELATED:10 Incredibly Unique JDM Cars That Are Super Affordable
Under the hood is a 122-hp, 1.8-liter, DOHC 4-cylinder engine, similar to that of the Nissan Versa. Production for the North American market ceased in 2014 due to poor sales and in 2019 for the Japanese market.
10 Incredibly Unique JDM Cars That Are Super Affordable
If weird cars are your thing, Japan has you covered. Here are some of the most unique JDM cars you can buy for under $15,000!
Read more
About the Author