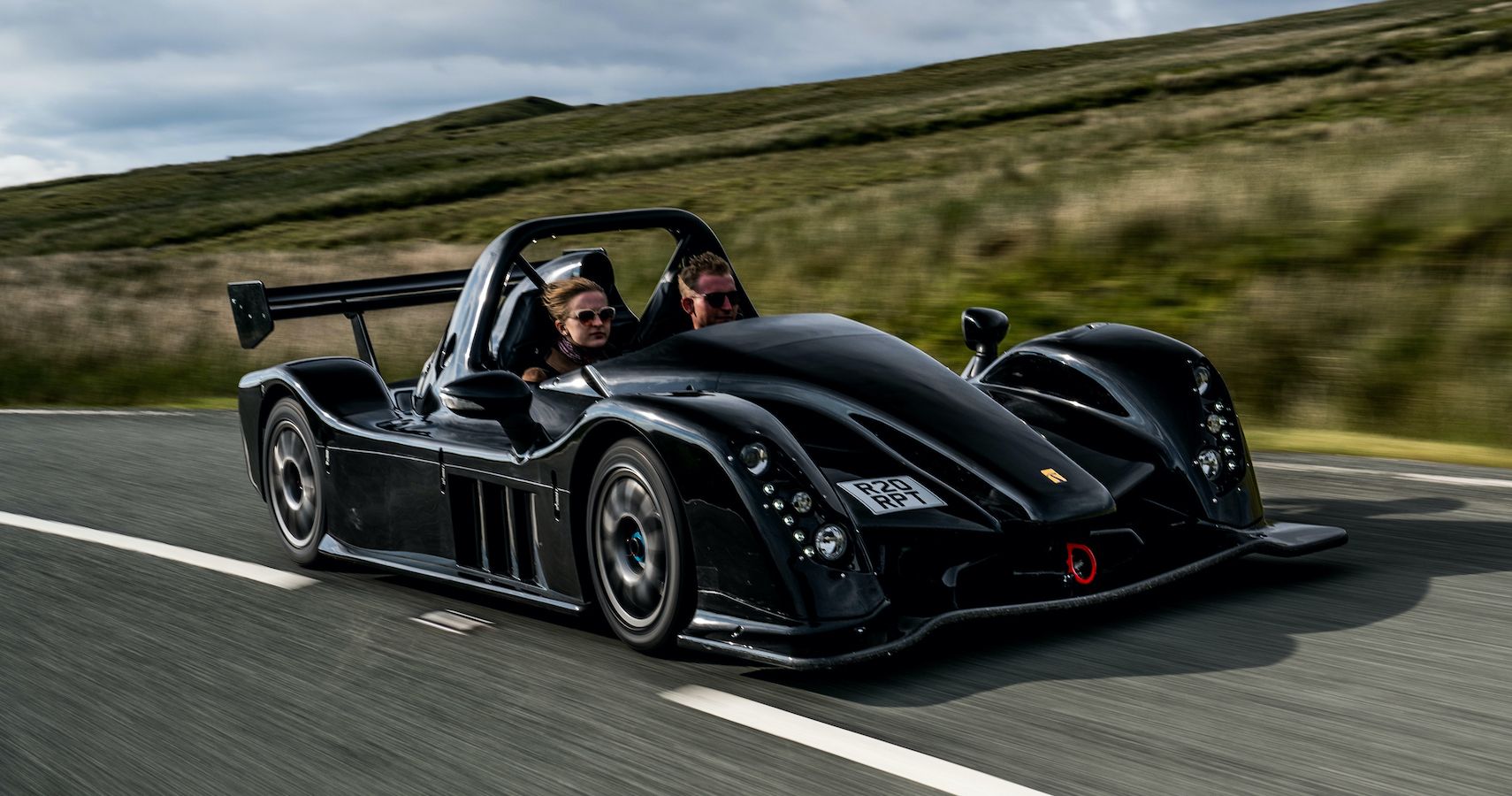 10 Times Manufacturers Built Cars That Are Barely Road-legal
Race car drivers are some of the luckiest people in the world. The thrill and adrenaline rush of pushing some of the coolest racing cars to their limits in the name of glory is unmatched. Sadly, that sentiment is reserved for a few gearheads, as there aren't enough racing competitions to accommodate us all.
Luckily, automakers have realized this and have built cars suitable for the track but homologated to meet the demand. Although often very expensive and exclusive, these cars feature similar power, technology and driving feel to the top racing cars, but have a few tweaks to make them road legal. Let's explore ten of these cars.
RELATED: These awesome cars are banned in the US
10/10

Mercedes-Benz CLK-GTR
When the FIA ​​revived the GT1 championship in the 90s, all major European car manufacturers wanted to be part of it. Winning such competition required a truly special car, which is why Mercedes-Benz built the CLK GTR.
The CLK GTR was built to win, so Mercedes-Benz fitted it with a carbon fiber monocoque and aluminum honeycomb frame to save as much weight as possible, and huge V12 under the hood. To meet homologation requirements, Mercedes-Benz built 25 street-legal CLK GTRs that each sold for $1.5 million, making them one of the most expensive production cars of the 1990s.
9/10

Scuderia Cameron Glickenhaus SCG 003
We've already covered American entrepreneur James Glickenhaus and his incredible collection of cars. After years of collecting some of the most exclusive supercars, Glickenhaus decided to build a car for himself, which is why he founded Scuderia Cameron Glickenhaus.
The best vehicle built by the company is the SCG 003, which debuted in 2014. The SCG 003 looks like a real supercar, as it was designed by former Pininfarina designer Paolo Garella. It's got the performance to match, too, as it's powered by a 4.4-liter twin-turbocharged BMW V8 making 750bhp.
8/10

McLaren F1LM
When the legendary McLaren F1 made its debut in the early 90s, it was so good that McLaren quickly entered it into competition at the 24 Hours of Le Mans as the F1 GTR. The F1 GTR was so successful that McLaren decided to honor it with a limited run of track-focused but road-legal versions known as the F1 LM.
The F1 LM is as close as anyone can drive a race car to Le Mans, as it used the same engine as the F1 GTR race car without the race-compulsory restrictors. Only five examples were built, making it extremely rare and expensive.
7/10

KTM X-Bow
KTM needs no introduction, having built some of the best sportbikes in the world. However, the Austrian motorcycle manufacturer tried to expand its lineup to include cars, which is why it built the X-Bow.
RELATED: 10 Reasons We Love The KTM X-Bow
The X-Bow debuted in the late 2000s to rival the Ariel Atom in the track car market and has been a huge hit ever since, forcing KTM to increase production from 500 a year to 1,000. The X-Bow weighs 1,740 pounds and is powered by a turbocharged four-cylinder developing 237 hp, which allows it to exceed 100 km/h in less than 4 seconds.
6/10

McLaren Senna
If you're a Formula 1 fan, you've probably heard of legendary driver Ayrton Senna. Notably, Senna won several world championships for McLaren at the time, which is why the British marque decided to honor him with a limited-edition track-focused supercar named after him.
The McLaren Senna is based on the 720S, but is fitted with various upgrades to ensure that it can achieve faster lap times than any other McLaren. It comes with an upgraded 4.0-liter twin-turbo V8 developing 789 hp, an adjustable rear spoiler, a twin-element diffuser, Brembo carbon-ceramic brakes and Pirelli P-Zero Trofeo R tires.
5/10

Porsche 911 GT1 Strassen version
The 911 GT1 was an important car for Porsche, as it marked the marque's return to the highest levels of racing. However, Porsche wanted the 911 GT1 to be much better than previous race cars, so instead of modifying a production car to turn it into a race car, Porsche basically created a purpose-built sports prototype and then built 25 copies homologated for the road. certification requirements.
The road-legal 911 GT1 – the Strassenversion – looked a lot like the race car and even had the same engine, albeit slightly detuned to make it a bit safer on public roads.
4/10

Maserati MC12
Maserati has always lived in the shadow of Ferrari. In the early 2000s, Maserati felt the best way to make a name for itself was to build a race car that could compete in the FIA ​​GT Championship, and so the MC12 was born.
RELATED: 10 Things Gearheads Forgot About The Maserati MC12
The MC12 was built using the mechanical underpinnings of the Ferrari Enzo, but had a unique design and slightly less power from the same 6.0-litre V12.
3/10

Ariel Atom
When it comes to open-top track day cars, it doesn't get any better than the Ariel Atom. The Atom debuted in 2000 and quickly set the standards for appearance and performance for a road-legal track car, and it has been in production ever since.
The Atom has been built in several iterations over the years, one of the best being the 2018 Atom 4. Equipped with a 316 hp Honda Type-R turbo engine, new chassis, suspension , brakes, steering and aerodynamic features, the Atom 4 is a pleasure to drive.
2/10

BAC Mono
Briggs Automotive Company (BAC) is a small British car manufacturer best known for creating the Mono – a road-legal sports car with a single seat. The Briggs brothers – who founded BAC – were previously design and engineering consultants for Mercedes-Benz, Porsche and Bentley until they decided to build their own car from scratch.
The result was the Mono, which immediately became the best track car. The initial version of the Mono was powered by a Cosworth-tuned Ford Duratec engine developing 276bhp, giving it a 0-60mph of just 2.8 seconds and a top speed of 170mph.
1/10

Radical Rapture
Radical Motorsport is a British car manufacturer specializing in building road-legal, track-ready cars. One of the best cars Radical has ever built is the Rapture – an open-top sports car that's sure to have you grinning from ear to ear.
The Rapture stayed true to the same formula that made the Ariel Atom and BAC Mono so successful – an ultralight design and decent powertrain. It comes with a 2.3-liter Ford Ecoboost engine tuned to produce 345bhp, enough to make the 1,600lb car a joy to drive.