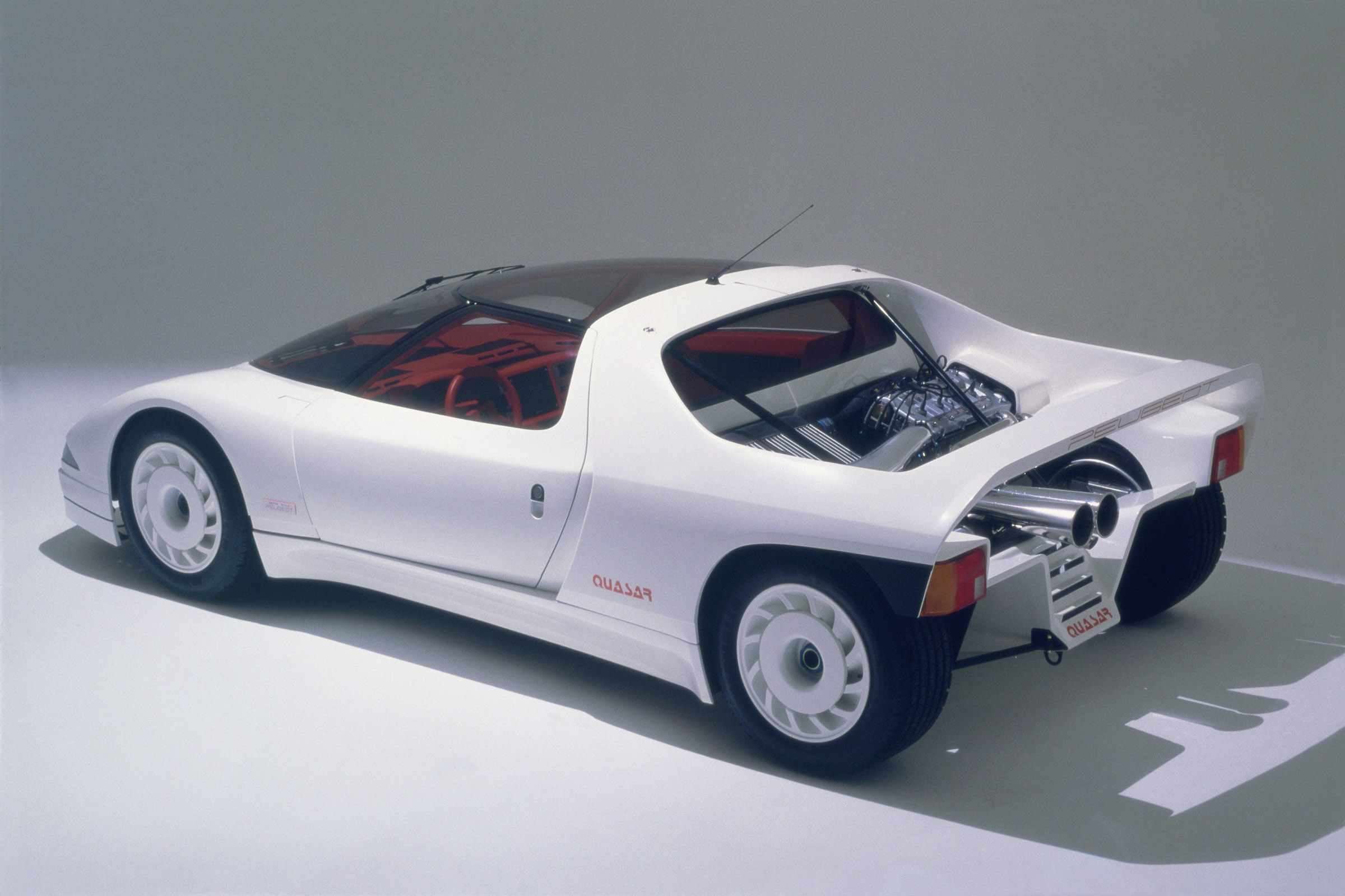 10 high-tech concept cars from the 1980s
If 1960s concepts experimented with dramatic space-age styling and shapes, and 1970s concepts could be described as psychedelic corners, the 1980s was an era of extreme aerodynamics and high technology.
Virtually every concept from the cassette-and-neon decade promised some sort of improvement in drag coefficient, fuel economy, or electronics functionality that could hardly have been dreamed of in earlier decades – but many of which now seem banal.
How much does your car cost to insure? Find out in four easy steps.
Get a quote
Narrowing down the options was surprisingly tricky, but below we've picked out ten concepts that defined the decade and wowed the crowds at car shows.
Ford AFV (1982)
There's a cognitive disconnect between the styling of the 1982 Ford AFV concept and the fact that under the hood was a thumping 1.6-liter CVH like some sort of base escort.
Not that the CVH hasn't been changed, but not in the way one might expect. AFV stood for Alternative Fuel Vehicle, but it probably should have been called MFV, because it could run on multiple fuels – natural gas, ethanol, alcohol, diesel, or just plain gasoline.
Ford suggested that while the car itself would be more expensive than a conventional car, running it on natural gas – like you would use it in your home – would be cheaper and could be fueled by a compressor at home. In retrospect, given today's energy prices, that doesn't seem so sensible – but you can always put diesel in the tank, of course.
Mazda MX-81 Aria (1981)
Here's one to break your noodle. Perhaps, you think, it is a precursor to the Citroën BX. Or maybe it's the concept that Marcello Gandini at Bertone turned into BX, the Volvo Tundra. The reality is neither one nor the other, but also both.
Designed by Marc Dechamps, the 1981 Mazda MX-81 Aria was indeed inspired by Gandini's 1979 Tundra concept – so it could be considered an alternate history BX. It was low-drag, with a 0.29 Cd rating, and modest below, based on the contemporary Mazda 323.
If it was striking on the outside, it was nothing compared to the interior, whose "steering wheel" was more like a belt encircling an instrument display containing various controls. You could call it an experimental touch – which is, conveniently, what the X in "MX" stands for. And the MX-81 was the first Mazda to use this now familiar letter combination.
Mercedes-Benz NAFA (1981)
"A Smart before the Smart" would be a succinct way to describe the 1981 Mercedes NAFA concept. It would be almost two decades before the Smart City Coupe (later Fortwo) was launched to the public, but the concept was clearly not nothing new for Mercedes-Benz.
The fact is that people were already worried about traffic and pollution in the early 1980s, even if it did not dominate the discourse as it does today. Several of the concepts on this page were built in response to these concerns, but none as over the top as the NAFA, which is 2.5 meters long (just like the original Smart) and designed to be parked face down on the curb.
NAFA's sliding doors never arrived on any Smart, nor did its front-wheel-drive layout – long before the front-wheel-drive A-Class as well. One wonders if the NAFA also offered similar levels of quality to contemporary Mercedes – those push-button door handles certainly look promising.
MG EX-E (1985)
You'll probably be more familiar with the MG EX-E concept than the others on this list, but arriving right in the mid-1980s, and being one of the most striking concepts to emerge from British automakers, we couldn't leave it out – it was the MG supercar that never was.
Remarkably, this sleek, technologically advanced car sat atop the mid-engined platform of the somewhat duller MG Metro 6R4. Not the most natural of bases, but not bad either given the capabilities of the 6R4, and with a Cd of 0.24, the aluminum space frame, the plastic-paneled dart served the same aero purpose as many of the concepts in the 80 years.
According to design director Roy Ax himself, speaking to AOnlineit was unlikely to be produced – but as a showcase for BL's design and engineering talents at the time, it did the trick.
Peugeot Quasar (1984)
Book a trip to the L'Aventure Peugeot museum in Mulhouse, France and you can check out the Peugeot Quasar concept anytime. We highly recommend it – partly because the museum is excellent, and partly because the Quasar is a piece of 1980s madness.
Like the MG EX-E above, you'll find Group B bones under the Quasar, in this case the mighty 205 T16 that dominated the WRC in 1985 and 1986. And like the EX-E, it ditched the hatchback form for pure supercar wedge shape – although with an exposed engine bay for the 600 bhp, twin-turbo four, the Peugeot's styling was even more dramatic than that of the MG.
The interior was pure science fiction. The work of Paul Bracq – famous designer behind some of BMW's and Mercedes' most respected shapes, and the cabins of Peugeot's 505 and 604 – the scarlet space was straight out of Blade Runner and accessed via scissor doors .
Pontiac Pursuit (1987)
The first of two Pontiacs on this list, but too good to miss – a more 1980s-looking car you'd be hard pressed to find. It had everything from an aerodynamic shape that would do the aviation industry a disservice, to wild technology, a turbocharger, digital instruments, and more.
Technologically, it included features such as power steering, and the scalloped button wheel only turned half a turn – that is, just 90 degrees – lock-to-lock. While it didn't happen on later Pontiacs, the buttons did: several early '90s Pontiacs had a wheel like a graphing calculator.
American manufacturers were still proponents of big cubes in the 1980s, but the Pursuit instead used a 2-liter turbocharged four-cylinder engine, making a good (for the time) 200 hp. And even a manual gearbox – one thing the car didn't accurately predict was the future, actually.
Pontiac Trans Sport (1986)
The minivan, minivan, minivan – call it what you will – hadn't really taken off yet in the 1980s, although the seeds were there. In Europe, Renault launched the Espace in 1984, which got off to a slow start but found its own market. And in the United States, Chrysler's Dodge Caravan and Plymouth Voyager also appealed to family buyers, having debuted in late 1983.
General Motors wanted to find its own niche in the market and would preview its vision of the minivan in 1986, using its blue-collar sports brand, Pontiac. The Trans Sport was decades ahead of Chrysler's minivans, foreshadowing 1990s curves and featuring a glassy canopy that wouldn't be out of place on an airplane.
A sporty stance and gull-wing-shaped rear doors only added to the intrigue, and while the production Trans Sport and its stablemates looked more like a portable vacuum cleaner – which made them earned the nickname "dustbuster" – they still owed a lot to one of the most striking, and most practical concepts of the 1980s.
Porsche Panamerican (1989)
At a glance – a very, very brief glance, perhaps while you're drowsy and/or drunk – the 1989 Panamericana concept could pass for a 911. But linger longer long and vaguely 911-like proportions and details diverge wildly from the brand's production models.
Named after the Carrera Panamericana races that Porsche used to successfully compete in, the concept was based on the contemporary 964-generation 911 (Carrera 4, naturally) – although true to concept form, it lent its soft curves to the 993 that was to follow.
Big tires, cut-out bodywork and skeletal (and removable) roof gave it the vibe of a 911 beach buggy. Despite tentative plans for a limited run of road cars, nothing ever came of the Panamericana – although Porsche's off-road aspirations are ultimately met by the Cayenne.
Volkswagen Scooter (1986)
Volkswagen has explored urban transport many times throughout its history, with few more striking than the Scooter concept unveiled in 1986. The name was deliberate, suggesting some sort of cross between a car and a motorcycle – an idea still explored by cars like the Citroën Ami today.
The tadpole-style three-wheel layout puts a Volkswagen Polo's entire drivetrain up front, powering the front wheels. With low weight, it was fast – 0-60 was well under ten seconds, 140 mph flat, with fuel economy of over 46 mpg.
The compact city car was merely a diversion for VW, with the group even rejecting Nicholas Hayek's city car proposal – which would later become the Smart under Daimler-Benz. VW was, however, about to revive the scooter with the 2011 Nils concept – four-wheeled and electric, but otherwise similarly stripped down.
Volvo LCP2 (1983)
Volvo has frequently used concept cars more for technological than visual previews. You can see some similarities between the LCP2 concept – sometimes called LCP2000 – and later front-wheel drive Volvos, but it was mainly used to experiment with lightweight materials, low fuel consumption and low drag.
The lightweight component prototype for the year 2000 then featured widespread use of plastics, aluminum and magnesium. It also worked with a claimed curb weight of just over 700kg.
Compact engines also helped, with Volvo exploring a 1.3-litre three-cylinder turbodiesel from Ricardo in the UK, and a 1.4-litre ELKO 3-pot turbodiesel with flex-fuel capabilities. Both used a continuously variable transmission, stemming from the brand's ties with DAF, while the drag coefficient was as low as 0.25 Cd. Even under the more stringent US EPA fuel economy tests, it was claimed to achieve 97 mpg at highway speeds.
Read more
Riding in a 1970 Mercedes-Benz C111 is the ultimate historic tease
Concept cars that never made the cut: 1971 Citroën SM Espace
From DMC-24 to Alpha5: DeLorean traces its history – both real and fictional